Our Mission:
This body shall be a nonprofit cultural and educational agency to support, encourage, coordinate, and promote high-quality activities and programs in the arts and humanities for the Chickasha area community.
Who Benefits from the Arts?
We all do!
The citizens and businesses of Chickasha and surrounding communities will realize the economic, social and cultural impact of the arts on the community.
The Children in our schools will be enriched by programs sponsored by the arts council.
Tourists, visitors, and potential businesses will look favorably on Chickasha as an arts hub for the Grady County area.
1st Saturday Morning Art Classes
The CAAC offers Free Children's Art Classes on the first Saturday of every month, ages 4-12.
Contact us for more information!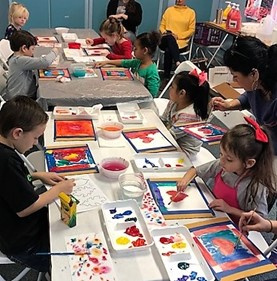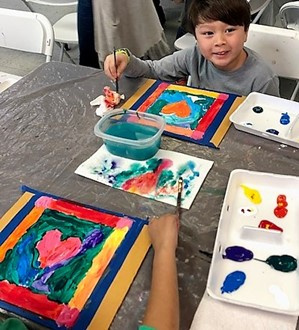 2022 MEMBERSHIP DRIVE & OPENING NIGHT RECEPTION FOR MILETA MELI GALLERY EXHIBIT
Artscope Director Applicatons now being accepted
Arts Council Accepting ArtScope Co-Director Applications
The Chickasha Area Arts Council (CAAC) has begunplanning for the 25th anniversary of ArtScope 2023 and is accepting applications from individuals interested in being considered as a Co-Director of CAAC's ArtScope 2023program.
ArtScope is a two-week multi-arts day camp for approximately 80 children, ages 8-12. The camp is to be held June 5-16, 2023 from 9am-4pm on the USAO Campus. TheCo-Director position involves coordinating and overseeing all aspects of ArtScope. This is a contracted and stipend-paidposition with many responsibilities, including: planning and working with camp staff; fundraising (including grant applications, seeking donations for camper scholarships, etc.);documenting all aspects of the program; writing and submitting final grant reports; receiving and organizing all camper applications and following up with required camper information; setting up for camp, completing an inventory and storing supplies and equipment after camp; communicating with parents/guardians of campers and the CAAC Board of Directors; promoting the camp in the community via several different media; selecting CITs (Counselors-in-Training) to assist with the camp; arranging for guest artists; and being involved in every facet of the camp for several months throughout the year.
For additional information and to receive a Co-Directorapplication, email chickashaarts@gmail.com or contact the CAAC office at 405-448-5036 or the CAAC President at 405-388-3038.
The completed application, including an up-to-date biography/resume, must be received by the CAAC by Fri., Sept. 16, 2022 to be considered for the position. The mailing address is CAAC – ArtScope 2023, PO Box 505, Chickasha, OK 73023-0505. The Chickasha Area Arts Council is located at 521 W. Chickasha Avenue, Chickasha, OK and is open Thurs. through Sat. from 10am-5pm during August.
The Chickasha Area Arts Council is a non-profit 501(c)3 all-volunteer organization governed by a Board of Directors consisting of 16 individuals from the community. Activities and events of the CAAC are funded by memberships, individuals, businesses, organizations, the Junior Social Workers of Chickasha, Altrusa International of Chickasha, Arvest Foundation, Chickasha Community Foundation and others. ArtScope is also supported by the Oklahoma Arts Council (OAC) and the National Endowment for the Arts(NEA).